LOVISA´S
WIN MY
POOH AWARD !!!


Please apply for Lovisa´s Pooh Awards! We´ll happily give it to any site we like and that is family friendly. It doesn´t have to be about Pooh, but if it is and we like it, we will link you both on the Links page and the Winner´s page.
Please send us an e-mail , sign the guestbook or fill in the form below. We need your name, URL and e-mail. Please state that you´re applying for the Pooh Award, since I have other awards as well.
Continue to the Winner´s Page!
Tell me which award you´d like; small,big or friendly! Or even all three!
Here are the Pooh Awards:
The small one -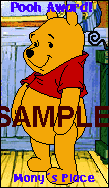 or would you rather have a big one?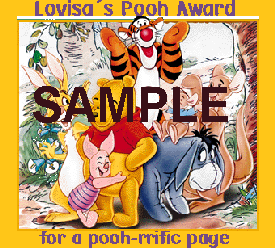 or maybe a friendly one?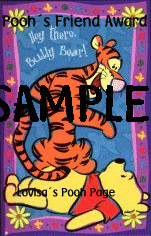 Lovisa´s Pooh Award Form
Your name & Award size:
Your email address: (e.g.: you@aol.com)
Your URL:


[pooh pictures]
[links] [downloads]
[win my award] [awards] [winners]